In accordance with the terms of a Memorandum of Understanding agreed between GIDB and DMICDC about early bird projects for the Dholera SIR, DMICDC and the Gujarat Government designated Dholera Industrial Park as one of the early bird projects.
The proposed "Activation Area" Industrial Park is stretched across an area of approximately 22.5 sqkm under Town Planning Scheme 2 in Dholera SIR.
The area is served by approximately 72 kilometres of roadways and benefits from an optimal combination of land uses, including industrial, residential, mixed-use, recreation, and tourist.
The location was chosen based on immediate land availability and its future condition following the execution of the TP project (area with highest opportunity of commencement of site work).
The area is already connected to SH6 through the Coastal Road to the north.
Also, whatever initial investment comes to Dholera SIR, it will come to activation area first likewise TATA Group's Lithium-Ion Battery Plant and Chinese Steelmaker Tsingshan.
The Industrial Park (Activation Land) accounts for approximately 4.25 percent of DSIR's total developable area. By 2022, it will be able to serve a residential population of 1.2 lakh people and employ roughly 80,000 people.
The development will activate a large piece of government land (80 percent) in the Industrial Park for investors and industrialists, as well as aid to stimulate investment in the remainder of the DSIR.
Various trunk infrastructure projects have been identified to develop the Activation area, as noted below:
Roads and Utilities – 72 km
Flood Management – Adhiya River Training and Bunding – 15 kilometres
Potable Water Supply – 135 kilometres
Wastewater Treatment (STP and CETP) – STP 20MLD – CETP 35MLD
Solid Waste Management – 22.5 square kilometres
430MW of power infrastructure
Information and Communication Technology (ICT) – 22.5 square kilometres
Administrative and Business Centre of Dholera (ABCD Phase-I)- 14000 sqm Built-up
Once the infrastructure indicated above is in place, the proposed industrial park will include ready-to-move plots with all utilities and infrastructure at each plot's door step.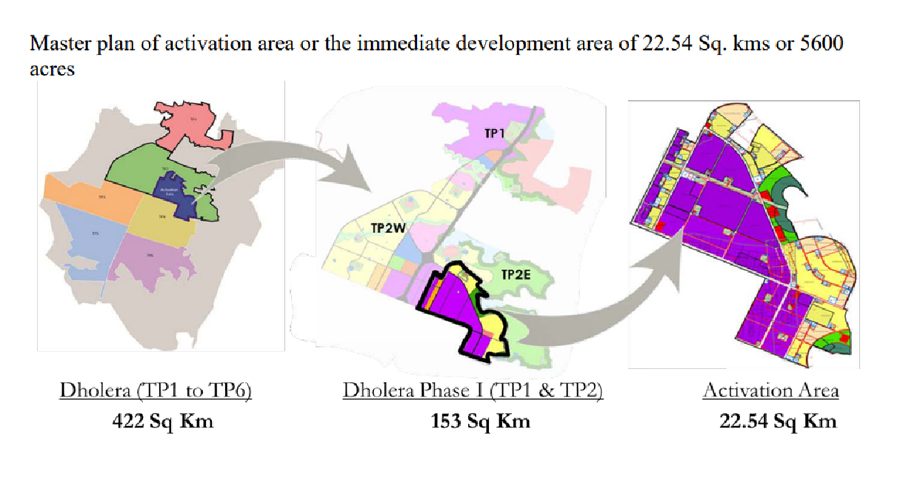 Also Read: Why is the Dholera smart city best for an investment in a residential plot?