Gujarat's government and DSIRDA have implemented the Town Planning Schemes (TPS) framework to assure the delivery of serviced land that benefits both the local population and the private sector.
The Gujarat Town Planning and Urban Development Act, 1976 (GTPUD), governs the implementation of TP schemes. The developable land inside DSIR is divided into six Town Planning (TP) Schemes, all 6 draft schemes have been sanctioned. Town Planning Schemes 1 and 2 apply to Phase-I development.
---
DHOLERA INDUSTRIAL CITY DEVELOPMENT PLAN
Dholera's development plan covers total land area of 920 Sq. Km. The city development plan map is provided below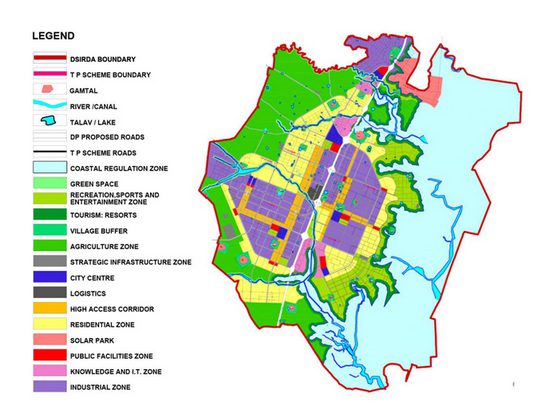 DHOLERA CITY- IMMEDIATE DEVELOPMENT (Activation Area)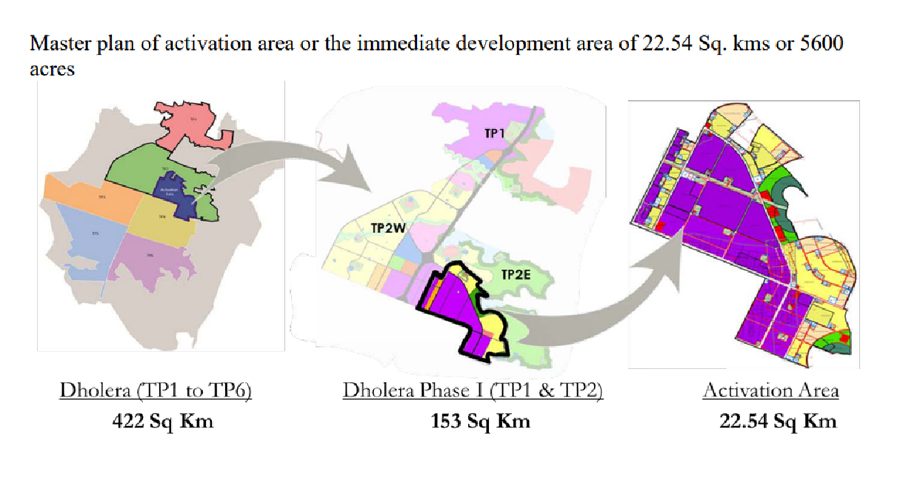 In accordance with the terms of a Memorandum of Understanding agreed between GIDB and DMICDC about early bird projects for the Dholera SIR, DMICDC and the Gujarat Government designated Dholera Industrial Park as one of the early bird projects.
The proposed "Activation Area" Industrial Park is stretched across an area of approximately 22.5 sqkm under Town Planning Scheme 2 in Dholera SIR.
DHOLERA CITY- TOWN PLANNING SCHEME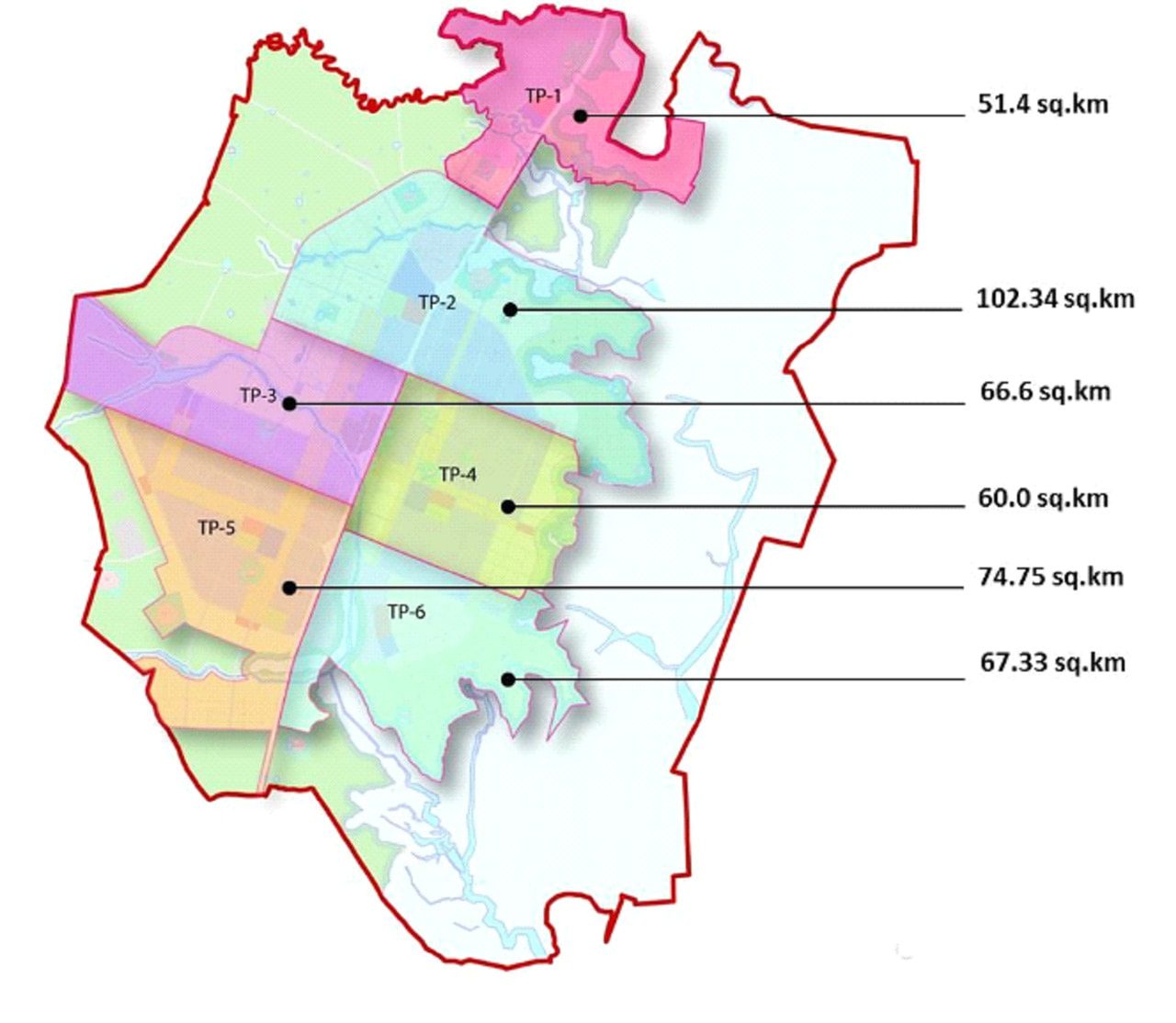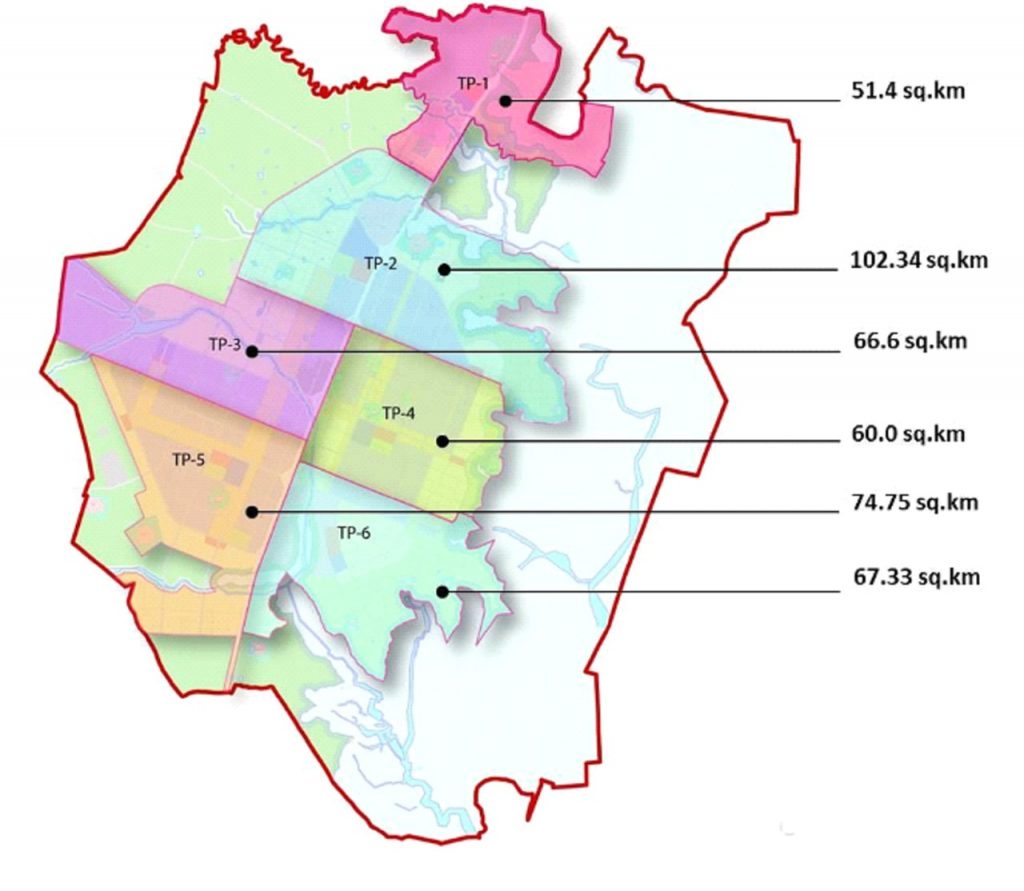 Due to Covid-19 crises, Phase 1 completion time will be delayed a bit from 2022 to 2023-24.
The Dholera Smart City Plan also describes the city's urban transportation system.
In addition to intra-city travel, inter-city transport transit projects will be built.
This comprises a six-lane highway, which will be built as four lanes at first and then expanded as needed.
In addition, high-speed metro rail will connect the city to Gandhinagar and Ahmedabad.
Dholera International Airport will connect it to the rest of the globe, and an expanded railway line and marine transportation are also in the works.The Dholera smart city plan has been assigned to Aecom, and the state and federal governments are actively watching the city's progress.
The Goals of Dholera Smart City Development Planning
The goal of Dholera Smart City Development is for it to be a long-term business centre that is also environmentally friendly and safe for people. The project will help cut down on energy use and make a space that looks better and has a better quality of life. It will also make it easier for people to go to school, get health care, and get around.
Companies worldwide have already shown a lot of support for this project, even though it seems like a huge idea. This includes big Indian companies like Reliance Industries, Tata Steel, and the Mahindra Group. 
UNESCO's International Institute has also approved it for Sustainable Development, part of the organization (IISD). This non-profit group is working to make the world a better place.
Dholera Smart City Development is an excellent example of how to succeed in today's fast-paced global market by coming up with new ideas.
The Concept of the Smart City
A smart city is built to make life better for its residents. It will have a lot of buildings that work together to provide a lot of different things, like education, health care, and transportation.
The three main parts of a smart city are transportation, infrastructure, and connectivity.
You can learn more about Dholera Smart City Development by visiting the project's website: Dholera SIR
The Construction of the Smart City
The construction of the smart city is scheduled to begin in January 2019. The project will be executed by the Dholera Smart City Development Company, a private company that the local government of Dholera established.
Dholera Smart City Development Company will raise funds for the project through investors and public donations. They are also working on securing grant funding from international organizations like the World Bank and United Nations Development Programme (UNDP).
The company expects to complete the project in 2020. The cost of this project is estimated at $9 billion, which includes $3 billion for construction and $6 billion for operational expenses.
The Expansion of the Smart City
The idea of Dholera Smart City Development is not new. This is not the first time the project has been brought up. The project was first proposed in 2008 by the Indian government as a part of its Smart Cities Mission. However, until 2016, the project finally started to take off.
What made it possible? There was a change in leadership at the Ministry of Urban Development and Housing and Urban Poverty Alleviation (HUDHA) and increased investment from private companies like Reliance Jio Infocomm Limited and General Electric (GE). This helped push the project forward, from being an idea in 2008 to being considered a reality by 2020.
Dholera Smart City Development will serve as many people as possible because it will be built with sustainability in mind. It will use solar energy, rainwater harvesting, green roofs, and other eco-friendly methods to increase efficiency while reducing pollution. The smart city will also employ strategies like demand-based pricing that allow people who need services to pay a premium for them to reduce congestion on the roadways.
This unique implementation of smartness is what makes Dholera Smart City Development a special project that deserves your
The Development of the Smart City.
Dholera Smart City Development is unique because it will be built from scratch. This means that the city will be built with a sustainable design and focus on utilizing renewable energy sources.
Another unique aspect of this project is its focus on education and health care. The city will provide students with an opportunity to learn about technology, real-life applications, and entrepreneurship at Dholera School of Engineering & Innovative Technologies. The school will also offer a joint degree program for students who want to study engineering, business management, and information technology.
Additionally, the smart city will include a health care centre with doctors on-site to provide medical services. There will also be a nearby hospital that can accommodate most medical treatments.
This project is exciting because it's innovative or sustainable. The government has already approved the plan to create this brilliant city. It's rare for such a large project to go through so quickly and so successfully!
Video link for more Detail!
Other Article Must Read: Smart City Dholera: The City of the Future.