Dholera Airport
Dholera International Airport, a new airport under construction in Gujarat, India, will become the world's first airport designed as an eco-friendly solution. Leading architects from around the globe are designing the airport. It will be built using renewable energy and will be an example of reuse and recycling in action. Dholera International Airport will also be home to several other green initiatives, including a plant-based waste management system and bio-toilet facilities.
The ninth-largest civil aviation market in the world
132 airports are currently operational (2013)
270 million passengers can be handled at airports (2015)
Passenger traffic exceeds 223 million (2015-16)
1.79 million total aircraft movements (2015-16)
The last two years have seen 12.5 per cent and 17.6 percent increases in passenger traffic. The country is ranked fourth in the globe in terms of domestic passenger volume (168 million) (2015-16)
In 2015-16, total freight traffic handled 2.70 MT. 1.04 MT for the domestic market and 1.65 MT for the international market (2015-16)
More than 100 countries have signed bilateral air service agreements.
India's Future Aviation Growth
By 2020, it is expected to be the third-largest aviation market, and by 2030, it will be the largest.
In India, the fleet size is 432 (as of February 2016); this is predicted to increase to 1000 by 2020 and more than 1600 by 2031.
The population of middle-income people is expected to increase from 160 million to 547 million by 2025. (2011)
The travel and tourism industry is expected to increase to US$ 270 billion by 2023, up from US$ 119 billion currently (2012)
Application of Advanced Air Navigation Technology (Project GAGAN)
Plan to build 100 low-cost airports in Tier II and Tier III cities.
The Regional Connectivity Scheme is emphasised in the draught civil aviation policy.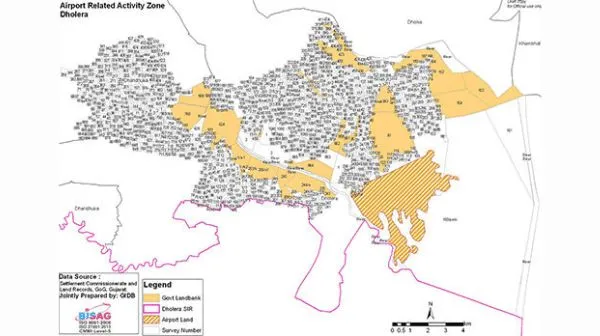 Support for aviation policy efforts from the government
Greenfield airports will receive 100 percent FDI.
Existing airports can get 100 percent FDI with FIPB approval.
Foreign Carriers received 49 percent FDI in aviation.
Increased traffic rights as a result of the Open Sky Policy.
VAT reduction on aviation turbine fuel.
On October 30th, 2015, MOCA announced a revised draught national civil aviation policy.
The Regional Connectivity Scheme has been launched to serve underserved corridors.
MOCA has requested recommendations for changes to the 5/20 rule implemented in 2004.
INDIA is being considered an MRO hub to reduce operational and maintenance costs for airlines while also saving foreign cash.
Route Dispersal Guidelines have added extra routes for category-1 airports based on clear criteria.
Scenario
Gujarat has long been India's growth engine, hosting several significant industries and a large number of small and medium-sized businesses and global corporations.
Gujarat is home to many vibrant industrial clusters, estates, and special economic zones, thanks to its ease of doing business and industry-friendly atmosphere.
Dholera Special Investment Region is the first of six nodes identified in Gujarat as part of the Delhi-Mumbai Industrial Corridor.
DSIR will serve as a worldwide economic hub with its world-class infrastructure and premium civic facilities. The Gujarat government intends to build an international airport at Navagam village, Taluka Dholera, to suit the DSIR's logistics and freight needs.
Dholera International Airport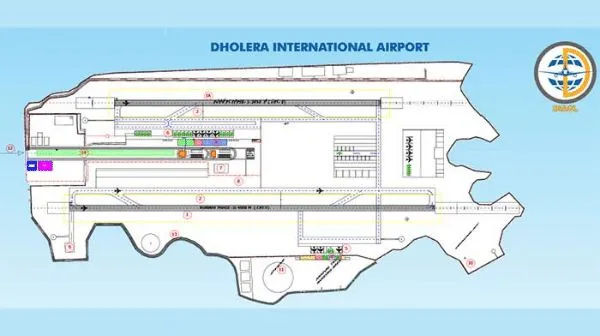 The projected Greenfield Airport will manage the spillover traffic from the present Ahmedabad International Airport and address the logistics requirements of DSIR.
The proposed airport will also handle increased traffic from adjacent cities such as Vadodara, Rajkot, Bhavnagar, Nadiad, and Anand, resulting in an airport-led economic expansion in the region compared to other Aerotropolis across the world.
The airport project would incorporate environmentally friendly solutions and sustainable technologies to gain the most carbon credits.
DIACL
According to the Government of India's Greenfield Airport Policy, the Government of Gujarat has constituted an SPV, Dholera International Airport Company Ltd., to enable the project in PPP mode with the assistance of a Project Management Consultant.
Dholera International Airport Company has got all relevant clearances from the Government of India, including site clearance, environmental clearance, in-principle approval, and No objection clearance, among others. The Ministry of Civil Aviation stressed this while providing in-principle authority to establish an aviation zone next to the airport.
The Dholera International Airport project has been designated as an 'Early Bird Project' by the Department of Industrial Policy and Promotion, the Delhi-Mumbai Industrial Corridor Development Corporation, and the Gujarat government. The Delhi Mumbai Industrial Corridor Development Corporation (DMICDC) owns more than 8% of DIACL.
Part I of the Flood Study and Mitigation of the Dholera Airport Site and Aviation Zone is expected to be finished in March 2016. DIACL has already issued an RFQ/RFP via DMICDC to select a transaction adviser to develop Dholera International Airport.
Dholera International Airport
| | |
| --- | --- |
| 1 | RUNWAY 4000 M |
| 1A | RUNWAY 2910 M |
| 2 | PARALLEL TAXIWAY |
| 3 | PASSENGER TERMINAL BUILDING |
| 4 | CARGO TERMINAL |
| 5 | APRON CARGO |
| 6 | APRON – PASSENGER AIRCRAFT |
| 7 | CAR PARK |
| 8 | HOTEL & CONVENTION CENTRE |
| 9 | ISOLATION BAY |
| 10 | COOLING PIT |
| 11 | DVOR |
| 12 | AIRPORT APPROACH ROAD |
| 13 | PERIMETER ROAD |
| 14 | GREEN BELT |
DIACL is also building an Aviation Zone and MRO hub on a nearby Government land tract. Aviation Zones may include aircraft production units such as components manufacturing units, aviation academies, flight training institutes, etc. MRO Hub may encompass the creation of various MROs such as airframe, body, paint, engine MRO, and level C & D checks.
Highlights
The airport is conveniently placed amid the state's major cities such as Ahmedabad, Rajkot, Vadodara, Anand, and others, linking various international aviation routes.
The airport would be built on 1426 hectares of government land in Navagam Village, Dholera Taluka, Ahmedabad District.
The site is measured and restricted by the District Inspector of Land Records.
The site can support two runways of 2910m and 4000m in length, parallel taxiways.
The Airport Authority of India has prepared the Feasibility Report, Detailed Project Report, and Environmental Impact Assessment (EIA).
Japan International Cooperation Agency (JICA) has also independently filed a Detail Project Survey.
DIACL has got the following approvals based on the AAI DPR:
The Ministry of Defence has made no objections to the development of an international airport (MoD)
The Ministry of Civil Aviation has granted the project site clearance (MoCA)
The Ministry of Environment, Forestry, and Climate Change has granted the project environmental clearance (MoEF)
Approval in Principle from the Ministry of Civil Aviation (MoCA)
The project will be developed in a PPP model following the Government of India's Greenfield Airport Policy parameters.
DMICDC owns a portion of the stock in DIACL.
On 182 peripheral boundary points, stone pegs are set.
DIACL has already issued an RFQ/RFP via DMICDC to select a transaction adviser to develop Dholera International Airport.