About Dholera Smart City Infrastructure
Dholera is a city in India that will be home to the country's first smart city. The Dholera Smart City Infrastructure project is a planned $2 billion investment by the Gujarat government and will be developed by the Indian Government's Housing and Urban Affairs Ministry, and the state's Chief Minister Anandi Patel.
It will be built on 8,936 hectares of land near Ahmedabad. The goal for this new smart city is to create economic prosperity and provide sustainable housing with 24/7 electricity, water, sewage facilities, healthcare and education. The project is expected to generate 1 million jobs for the region within 15 years.
Dholera smart city development is planned in phases. Currently, Phase 1 development is in progress which includes building a smart residential township in Dholera. SmartHomes Infrastructure Pvt. Ltd, the Indian wing of Singapore based Smart Infrastructure PTE. Ltd is responsible for developing a residential township in Dholera smart city which comprises affordable smart apartments, opulent bungalows, breath-taking villas and residential plots.
The infrastructure of roads in Dholera smart city is built according to the below-mentioned layout.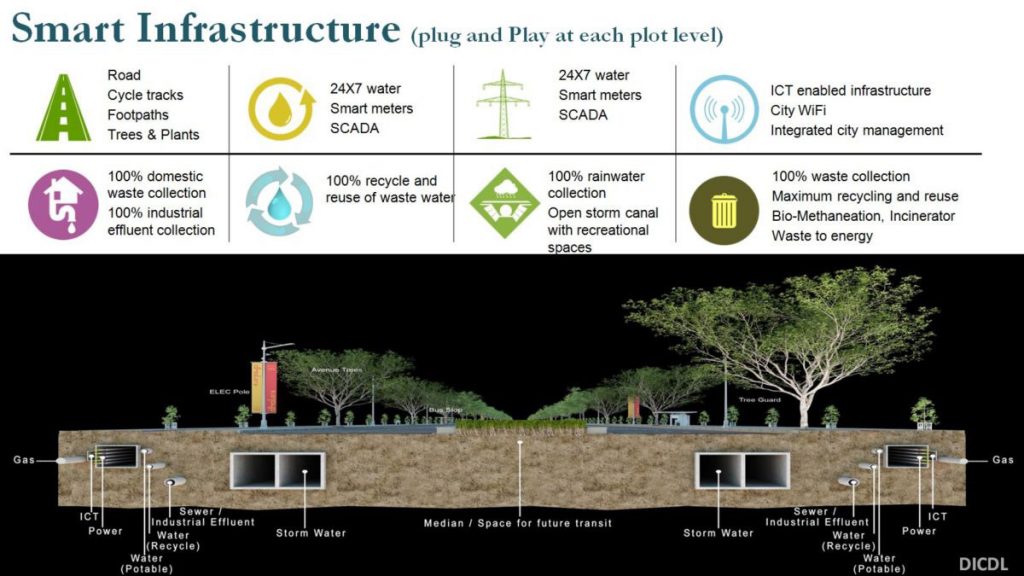 Apart from urban development, overall trunk and external infrastructure will be built to facilitate DSIR's growth. These includes
---
1. Overall Trunk Infrastructure Project.
Roads and services/utilities
The raw water transmission line from the source
Wastewater treatment and recycle
Solid waste management
Power T&D network
Information Communication Technology (ICT) network
Administrative and Business Centre of Dholera (ABCD)
2. External Infrastructure Project.
River bunding for flood management
Ahmedabad – Dholera Expressway
Ahmedabad – Dholera MRTS
Freight rail from DSIR to Bhimnath for connection to DFC
Dholera International Airport
Dholera's immediate City development area of roughly 5,600 acres is projected to be operational by 2019, with the entire city to be completed by 2030.